Extended Vehicle Warranty
Powertrain
Engine Components

All internally-lubricatedparts,beltstensioners,timing chain/belts,oil coolers, oil cooler lines,engineblock,cylinder heads, water pump, fuel pump, oil pan, intake andexhaustmanifolds,engine mounts,balancer, flywheel,turbocharger/supercharger,electricdriver motors,and much-more

TransmissionComponents

Automatic or Manual transmissions applyAllinternally-lubricated parts.Transmission and Transfer case iscovered if damagedby internal part failure.Torqueconverter,internal linkage,transmission mounts,and much more.
Hybrid and Electric Vehicles - Transaxle,electronictransmission, and electronic coils.

Drive Axle Components



Front and Rear internally lubricated partscontained withinthe differential housing, trans-axle, and final drive. Housingsare covered ifdamaged by internal part failure. Axle shafts, CVJoints,universal joints,driveshafts, locking hubs, hubbearings,locking rings,supports,retainers,andbearings.
Powertrain Plus - Includes everythinglisted inPowertrain,including...
Air ConditioningComponents

Air conditioner compressor, clutch, clutchpulley,clutchcoils, HVAC actuators, condenser, evaporator,expansionvalve,accumulator,orifice, idler pulley, bearing, ducts,outlettubes,temperature control programmer, power module, hi/lowcut-offswitch,and receiver/dryer.

Heating/CoolingComponents

Thermostat, radiator and mounting brackets. Fanshroud,fancontroller module, coolant recovery unit, heater ducts, blowermotor,heatercore, fan,fan clutch, and fan motor.

Electrical Components

Starter, Alternator, voltageregulator,distributor,ignitioncoil, wiring harness, solenoids, ignition switch,lock and tumbler,brake-lightswitch,wiper motors, horn buttons and horns,airbags, doorswitches,power-doorlocks,window motors and regulators, mirrormotors and controls,power-antenna motor,power-seat motors,cruise-control transducer,engagementswitch and servo,turn-signal switch,wiper-delay switch and controller,wiper/washer controller and pump, powersunroof/convertible top motor andswitches,relays,gauges,electronic levelcontrol module, instrument cluster,electronic mixture control unit and sensors,key lessentry-system,factory-installed anti-theft device.
Hybrid and Electric Vehicles - Electricmotor,powercontroller,inverter,generators, electronic display monitor,electric vehiclepower cord,electrical inlet connection.

Braking Components

Master cylinder, power assistbooster,wheelcylinders,combination valves,metal hydraulic lines and fittings,disccalipers,backing plates,springs,clips, retainers, ABS relays, parkingbrakelinkage and cables,rear actuators,regenerative braking components, wheelspeedsensors,actuators,and much more.
Maximum Plans - IncludeseverythinglistedinPowertrain & Powertrain Plus
Suspension Components

Struts, mounting plates, retainer and bushing, upper andlowercontrol arms, control arm shafts and bushings. Upper and lower balljoints,steering knuckles, wheel bearings, stabilizer shaft linkage andbushings, torsionbars,spindle and spindle supports, radius arm andbushings,coil and leafsprings,strut bar and bushings.

Steering Components

Gear housing and all internally-lubricated parts.Rack andpinion, power steering pump, main and intermediate shafts,couplings,cooler andcooler lines, power cylinder and pit man arm, idler arm,tie rod, tie rod ends,and control valve.
Hybrid and Electric Vehicles - Steering assist motor,torquesensing device, sensors, and EPS electronic control unit.

Fuel DeliveryComponents

Fuel tank, fuel tank sending unit, metal andplastic fuellines, fuel injectors, transfer pumps, carburetor, throttle body,fueldistributor,injection pump, diesel injectors, diesel injector pump,and vacuumbooster pump.

Seals and GasketsCoverage

Seals and gaskets are covered for all listed parts.

Wear and Tear

Coverage will be provided for normal wear and tearfor allparts of the vehicle except for parts listed in the exclusions sections of theservice agreement.

Key Guard
Warranty Wrap Coverage
Our Wrap Plans are available for vehicles with Manufacturer'sFactory Powertrain Warranty remaining.


Wrap Policy - A wrap policy essentially extendss your bumer-to-bumper warranty so that even if your factory bumper-to-bumper policy has expired, all the parts of your vehicle are still under warranty. Typically, power-train warranties cover the engine, transmission and the components of the drive train. A wrap policy will cover almost everything else.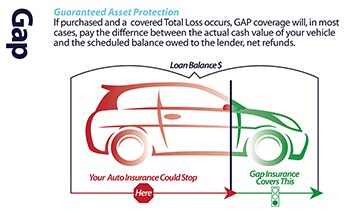 GAP Insurance
Insurance policies only cover the value ofyourvehicle,something that declines during the first few years ofownership.GAPprotection, covers the"gap" between the value of your vehicles,and the amountyou still owe on the loan
Example:

After one year, the vehicles that you purchasedfor $27,000 is valued at $20,000.
It is declared as a total loss after an accidentand you still owe $24,000.
Most insurance companies will only reimburse you for thevalueor your vehicle, $20,000, leaving your responsible for theremaining $4,000.
GAP Protection will waive the $4,000 for you!
Our GAP Protection will cover a "gap" of up to$50,000 and your deductible of up to $1,000!
RoadVantage - Total Preferred Plus Protection
Protect Your Vehicle Investment -What RoadVantagecovers...
Tire&Wheel - Road Hazard coverage with no deductible orhiddenfees,includes mounting, balancing, valve stems, wheels, sales tax,andlabor charges.


Covers damage from blowouts, nails, glass,potholes,anddebris.
Covers aftermarket wheels.

Cosmetic WheelCoverage - Restore the appearance of your wheelsand hubcaps.


Repairs scrapes, scratches, and nicks caused bycurbdamage.
If not repairable, wheel will be replaced.

Dentand DingRepair - Minor dents and door dings are removed bytrainedtechnicians.


No limit to the number of times Paintless Dent Repair canbeapplied.
No sanding, painting, or body fillers are used.

WindshieldRepair - Chips and cracks can be repaired permanently usinga powerfulinvisible resin.

Repair of your windshield, so you avoid thecost ofreplacement.
Repair minor stars, cracks, and chips.
Saves you costly windshield deductibles.

Interior/Exterior Repair - Professionalcleanup,reconditioning,orrepairs to interior and exterior surfaces.


Exterior protection against, fading, road salt, treesap,birddroppings,acid rain, and more.
Covers interior damage to vinyl, leather, carpet,fabric,andupholstery.
In not repairable, interior surfaces willbereplacedandexterior surface swill be repainted.

KeyReplacement If keys are lost or damaged, keys are replacedand programmingcharges are covered.


24-Hr Emergency Roadside Assistance.
Accidental lockout assistance
Nationwide 24/7/365 service

True Coverage -includescoverage for problems thatare usually excluded, such as damage causedbyconstruction zones, car washes,or metal plates on the road. it coverssnowtires,wheel covers, chrome and chrome clad wheels, aftermarket wheels,andmore.